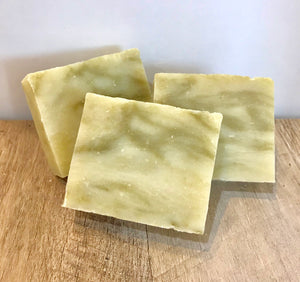 *Vegan
Just as Tea Tree can help cleanse an oily scalp and greasy hair, it also works wonders as an anti-inflammatory soap on skin. Skin prone to acne and breakouts may benefit from a gentle wash with our natural Tea Tree soap, followed by a gentle cleansing and moisturizing regimen.
Tea Tree Soap soap (Vegan, All Natural)
Ingredients: Olive Oil, Water, Coconut Oil, Sodium Hydroxide, Organically Farmed Palm Oil, Shea Butter, Tea Tree Essential Oil, Cajeput Essential Oil, Parsley Powder.