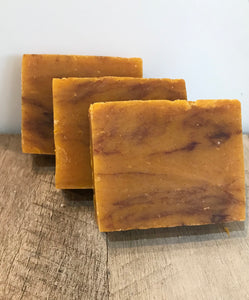 *Vegan
This blend is spicy and rich with clove, cinnamon, orange, patchouli and more! Great Unisex Scent!
Vibrant with the irresistible spiciness of the West Indian bay tree, this soap will quickly become your favorite. 
The emollient in the soap, coconut oil softens your skin and adds extra moisturizer and creates a rich, velvety lather.
INGREDIENTS:   Olive Oil, Water, Coconut Oil, Sodium Hydroxide, Organic Palm Oil, Shea Butter, Bay Essential Oil, Orange Essential Oil, Cinnamon Essential Oil, Rosehip Powder, Annatto Powder.