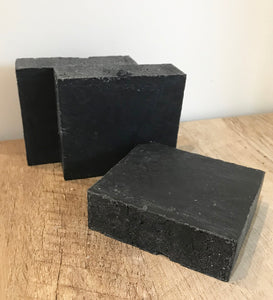 *Vegan
Activated Charcoal will draw impurities, dirt and oil from the skin. We put loads of charcoal in this soap for maximum cleansing effectiveness in our 85% Organic Ingredient Soap Base. Blended with Peppermint and Tea Tree Essential Oil blend.
FEEL ENERGIZED AND REFRESHED with a rich lather from our peppermint soap bar. Includes tea tree essential oil and cajuput essential oil to help eliminate odors and keep your skin clear. Great for all skin types. Use as a daily face soap, body soap, or hand soap.

TAKES THE ITCH AWAY. Our tea tree soap contains many organic ingredients that are commonly used to provide antifungal relief for many types of rashes and dry itchy skin conditions.
Peppermint Tea Tree with Activated Charcoal (Vegan, All Natural) Ingredients: Organically Farmed Palm Oil, Water, Organic Sunflower Oil, Organic Coconut Oil, Sodium Hydroxide, Organic Olive Oil, Essential Oils of Peppermint, Tea Tree and Cajeput, Activated Charcoal.