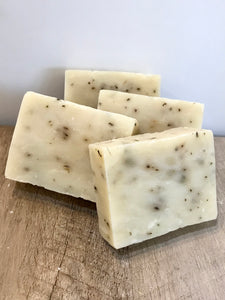 *Vegan
Our all natural Peppermint Soap is loaded with Peppermint essential oil and crushed peppermint leaves which accent this naturally eye-opening soap. Intense, rich natural peppermint aroma.
Peppermint essential oil is known for its cooling, analgesic, anesthetic, decongestant, emmenagogue, insecticide and stimulating properties. *Can irritate skin and mucous membranes, so avoid contact with eyes, inside of nose and sensitive areas.  
It also relives itchiness and irritation when used with moderation.  Peppermint soap acts as a refreshing skin tonic and cools down inflammation cause by skin blemishes and acne.
Peppermint (Vegan, All Natural) Ingredients: Olive Oil, Water, Coconut Oil, Sodium Hydroxide, Organically Farmed Palm Oil, Shea Butter, Peppermint Essential Oil, Peppermint Leaves.