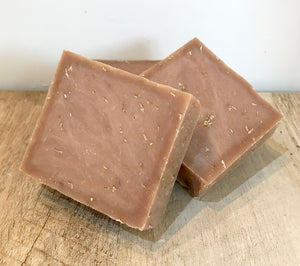 Our Oatmeal, Milk and Honey soap contains oatmeal as an exfoliant with a milk and honey scent.
Each soap bar contains real oats, goat's milk and honey. These ingredients have anti-inflammatory and protective properties and provide many health benefits for numerous skin conditions such as acne, eczema or dry itchy skin. 
Oatmeal Milk and Honey Soap
Ingredients: Olive Oil, Coconut Oil, Water, Sodium Hydroxide, Organically Farmed Palm Oil, Fresh Goat Milk, Shea Butter, Fragrance, Oats, Honey.