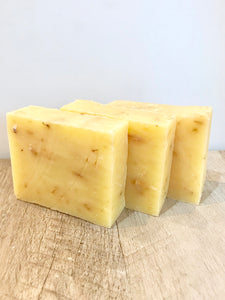 *Vegan
Our all natural lemongrass soap has pure lemongrass essential oil and real lemongrass in this lemon-rich soap. Enjoyed by many for its unique citrus smell, this essential oil is also known to relieve fatigue.
Lemongrass acts like a toner, minimizing pores of the skin and toning the tissues and muscles. It reduces wrinkles and is excellent if you want a toned and clear complexion.
Lemongrass (Vegan, All Natural)
Ingredients: Olive Oil, Water, Coconut Oil, Sodium Hydroxide, Organically Farmed Palm Oil, Shea Butter, Lemongrass Essential Oil, Lemongrass Herb.