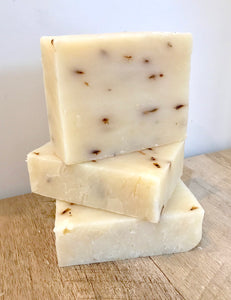 *Vegan
Our All Natural Lavender Blossoms Soap is loaded with Lavender essential oil and ground lavender flowers create a natural floral and herbal smelling soap.
Lavender essential oil is known to be analgesic, antidepressant, antiseptic, and antiviral as well as a bactericide, decongestant, deodorant, and fungicide. It is also known to soothe minor burns and sunburn.
Lavender Blossoms (Vegan, All Natural)
Ingredients: Olive Oil, Water, Coconut Oil, Sodium Hydroxide, Organically Farmed Palm Oil, Shea Butter, Lavender Essential Oil, Lavender Buds, Lavender Powder.