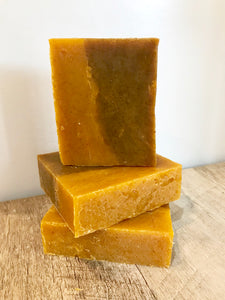 *Vegan
Our natural Champaka Soap has sweet, earthy and rich floral notes with a light powdery incense.
Used to warm, calm, reduce stress, aid breathing and induce euphoria, its seductive and beautiful fragrance produces a celestial atmosphere that soothes, relaxes and strengthens the mind after a stressful day.
Ingredients: Olive Oil, Water, Coconut Oil, Sodium Hydroxide, Organically Farmed Palm Oil, Shea Butter, Fragrance, Annatto Powder, Black Walnut Powder.