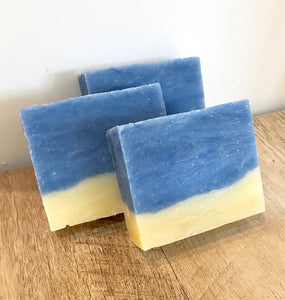 *Vegan
Ocean Breeze is one of our most popular uni-sex fragrances with a bold sea mist scent. It will take you to the ocean where the air is saturated with fresh flowering vegetation and greenery... Complex and yet refreshing and not overpowering
This soap is a pH balancing cleanser for face and body that is ideal for eczema, psoriasis and acne prone skin. Enriched with antioxidant packed ingredients like shea butter and coconut oil to lightly moisturize and soothe skin. 
Ocean Breeze Soap (Vegan)
Ingredients: Olive Oil, Water, Coconut Oil, Sodium Hydroxide, Organically Farmed Palm Oil, Shea Butter, Fragrance, Ultramarine Pigment, Turmeric Powder.