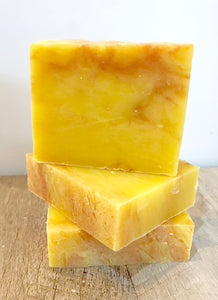 *Vegan
Grapefruit and Orange and Lime are blended for a balanced citrus aroma. Each time you smell this soap it seems to have a different nuance you missed before. Smells more like grapefruit sometimes and like lime other times... but always smells like fresh citrus.
Uplifting pink grapefruit scent and naturally derived aloe vera... this natural soap also contains shea butter for soft silky skin, and produces a rich lather.
INGREDIENTS:  Olive Oil, Water, Coconut Oil, Sodium Hydroxide, Organic Palm Oil, Shea Butter, Grapefruit Essential Oil, Orange Essential Oil, Key Lime Essential Oil, Organic Aloe Concentrate, Kaolin Clay.