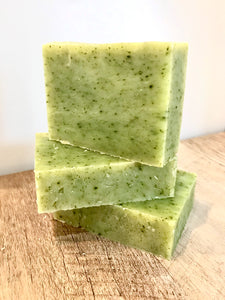 *Vegan
Our all natural Eucalyptus Spearmint Soap is full of invigorating Eucalyptus and Spearmint  which combine for a wonderful aromatic experience.
The eucalyptus and spearmint essential oils in this soap combine for a fantastic scent as well as a powerful combination of therapeutic properties that clears the mind and raises the spirits. Treat your nose, lungs, and your skin to the benefits of this soap in your daily routine.
Eucalyptus Spearmint (Vegan, All Natural)
Ingredients: Olive Oil, Water, Coconut Oil, Sodium Hydroxide, Organically Farmed Palm Oil, Shea Butter, Eucalyptus Essential Oil, Spearmint Essential Oil, Spirulina Powder.