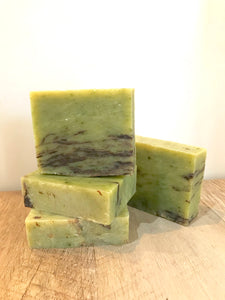 *Vegan
Our Chocolate Mint soap is full of natural Essential Oils of Spearmint and Peppermint couple with organic cocoa butter and chocolate for a blissful mint chocolate scent.
Cornmint (Mentha arvensis), is a natural source of menthol and makes this bar refreshing and invigorating....and the added chocolate...super! The mints may help relieve tension and headaches.
To further pamper your skin, we incorporate cocoa butter, a rich emollient. The result is a creamy bathing experience that delivers superb cleansing and aromatic satisfaction.
Chocolate Mint Soap Organic Ingredients (Vegan, All Natural)
Ingredients: Organicaly Farmed Palm Oil, Water, Organic Sunflower Oil, Organic Coconut Oil, Sodium Hydroxide, Organic Olive Oil, Organic Cocoa Butter, Organic Chocolate, Essential Oils of Spearmint and Peppermint, Spirulina Powder.