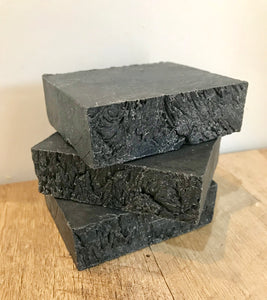 This all natural goat's milk soap is made with activated charcoal and rhassoul clay aloe and has a mild scent of soft and sweet herbal undertones. Chamomile essential oil is the perfect addition due to its calming, soothing and antibacterial properties. 
Activated charcoal is known for its ability to draw out impurities in the skin. 
This is an ideal soap for cleansing both the face and body. 
INGREDIENTS: Vegetable Oil Blend (Organic Extra Virgin Olive Oil, Organic Sustainable Palm Oil, Organic Coconut Oil, Organic Sunflower Oil, Jojoba Oil), Water, Sodium Hydroxide, Goat Milk, Activated Charcoal, Kaolin Clay, Rhassoul Clay, Aloe Vera, Chamomile German Essential Oil, Chamomile Roman Essential Oil