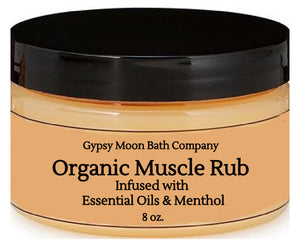 Our stimulating moisturizing rub-gel comes in an 8oz. jar is infused with essential oils, peppermint oil, black pepper oil, eucalyptus and menthol oil. Formulated to relieve achy tired tight muscles - it will feel both hot and cold at the same time.

Relieves the pain of FIBROMYALGIA. Arthritis, Back Pain, Carpel Tunnel, Sports Injury, Shingles Neuropathy, Muscle Soreness, and Stress. 
Perfect for use on your back, legs, arms, hands and feet.  Apply a generous amount and gently massage into skin and let dry.  Because of it's silky smooth feel there is no need to rinse after use.  Use as often as needed. For external use only. 
INGREDIENTS:  Organic Aloe Leaf Juice, Meadowfoam Seed Oil, Menthol Crystals, Capsicum Fruit Oleoresin, White Camphor Bark Oil, Sweet Basil Leaf Oil, Black Pepper Oil, Roman Chamomile Flower Oil, German Chamomile Flower Oil, Cinnamon Leaf Oil, Citronella Oil, Eucalyptus Leaf Oil, Helichrysum Flower Oil, Ginger Root Oil, Pink Grapefruit Peel Oil, Juniper Berry Oil, Lemongrass Oil, Peppermint Oil, Pine Needle Oil, Ravensara Oil, Rosemary Leaf Oil, Spearmint Oil, Wild Oregano Oil, Glycerin, Witch Hazel Water, Organic Alcohol, Phenoxyethanol, Carbomer, Triethanolamine, Tetrasodium Glutamate Diacetate.
This award-winning formulation  is 76% Organic content ingredients, manufactured in a USDA organic certified lab.
Disclaimer: These statements have not been evaluated by the Food and Drug Administration. This product is not intended to diagnose, treat, or prevent any disease.